The Joopita® Stone presents a compelling alternative to natural gemstones, given its superior scratch resistance for daily use. In contrast to natural gemstones, which are extracted from the earth using heavy machinery, explosives, and often in hazardous working conditions, the Joopita® Stone was meticulously crafted to offer enhanced durability and superior optical qualities, rivaling that of a diamond. All this, while adhering to ethical standards aimed at preserving our environment.
Why choose Joopita® Stone?
Continuing our legacy of providing top-tier simulants worldwide, we proudly offer fancy colored stones. Our website allows you to filter by stone color, giving you the choice to select jewelry featuring these vibrant stones.

DIAMOND WHITE COLORED STONE
Diamond White Joopita® Stone offers the brilliance and durability of a natural diamond, all at a fraction of the cost. For centuries, diamonds symbolized eternal love and remain highly cherished today, associated with celebrities and royalties.

SAPPHIRE BLUE COLORED STONE
Sapphire Blue Joopita® Stone embodies the essence of real sapphires, making it an outstanding alternative. Sapphires have a rich history tied to faith, purity, and enhancing communication, insight, and inspiration. In ancient times, sapphires were even believed to have the power of predicting the future.

Ruby Red Joopita® Stone exudes the same allure of love and beauty as authentic rubies. Rubies are renowned for their protective qualities against misfortune and illness, symbolizing friendship and love when given as a gift. Additionally, rubies are the birthstone for July.

EMERALD GREEN COLORED STONE
Emerald Green Joopita® Stone captures the vivid color of precious emeralds while offering enhanced durability. Emeralds symbolize health, healing, and insight into the future, along with the gift of wisdom. They are also the traditional birthstone for May.

Fancy Pink Joopita® Stone radiates a luminous and breathtaking charm akin to natural pink gemstones. Pink gemstones are often referred to as the "stone of gentle love," believed to bring peace and calm to relationships. They are excellent for healing emotional wounds, dispelling negativity, and restoring harmony after conflicts.
AMETHYST PURPLE COLORED STONE
Amethyst Purple Joopita® Stone is as vivid in color and share the same significance as the real purple variety of quartz. Amethyst calms the emotions, encourages clarity of thought, and assists in attaining wisdom. It is also the traditional birthstone for February.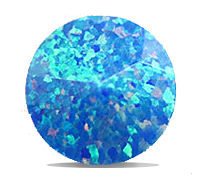 Opal Joopita® Stone is renowned for its dazzling play-of-color, often likened to a galaxy, a rainbow, or fireworks. As the birthstone for October, opals are associated with enhancing creativity and inspiring mystical visions. These gemstones are known for their delicate and exquisite beauty.

SYNTHETIC TURQUOISE STONE
Turquoise Joopita® Stone is a captivating opaque mineral, displaying shades of blue and green. It holds the traditional birthstone status for December and is the gemstone associated with 11th anniversaries. Turquoise is believed to bestow good luck, offering healing properties for issues related to teeth, lungs, throat, and even depression. Additionally, it is thought to enhance the wearer's creativity and spirituality.